Digital nomading in October in Thessaloniki, Greece
Travel & what to see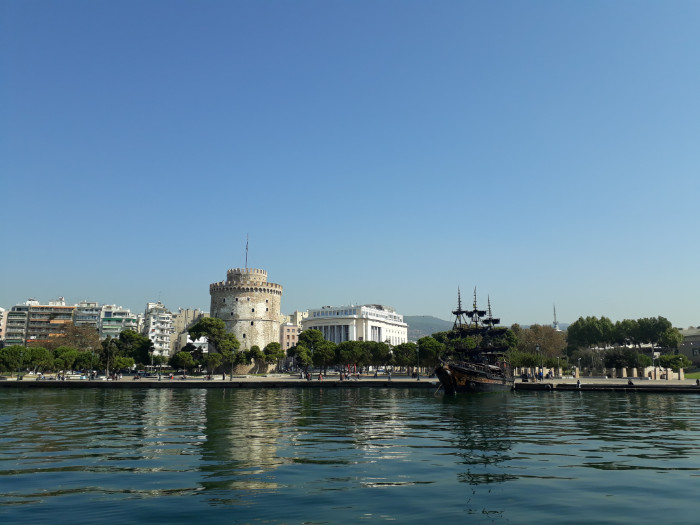 Thessaloniki is the second largest city in Greece, it is a student city full of bars and tavernas. The most known site is the White Tower which houses a little museum about the city's history and a roof with 360° view. You can take a little boat ride around the coast in one of the boat bars that dock just in front of the tower. There are many Roman ruins and Ortodox churches in the city that you can visit. It is also worth to go up the hill to ano poli to see what is left from the walls and get a view of the whole city. I also recommend walking along the waterfront and going to the port. Locals grab drinks from kiosks on the streets and sit around the coast to drink, chat and chill. As a good way to learn a bit about the city and see some of its sights, it is good to join free walking tours.
| | |
| --- | --- |
| Entry to White tower | 4 EUR |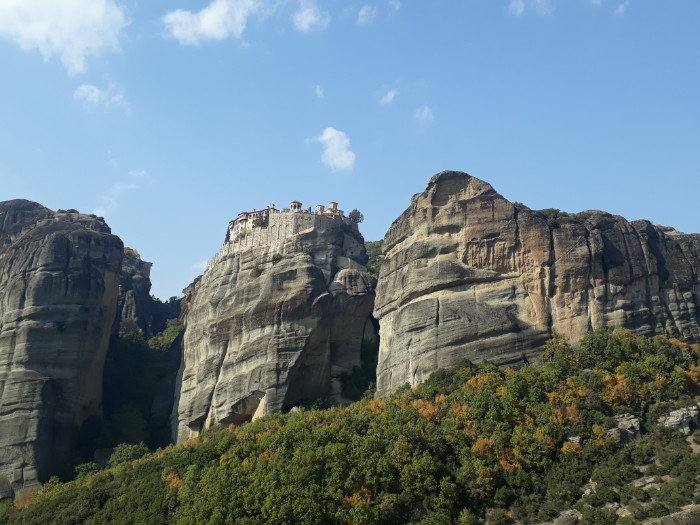 Apart from exploring the city itself, I decided to go on two trips. The first one was to Meteora monasteries. They are Eastern Orthodox monasteries built on giant rock cliffs surounded by spectacular nature. They are well worth a visit and perhaps the most beautiful place in the whole Greece. I went from Thessaloniki to Kalambaka by a public bus. Going by train or with an organized tour is another option. Since I went on my own, I decided to spend a night in Kalambaka and enjoy this place a bit longer than I'd normally do on a day trip. I rented a scooter and went around to visit monasteries on it. It is the best way to explore the area in my opinion. I also hiked from the town center to the Monastery of the Holy Trinity (the closest one) in around 35 minutes and hiked around the top parts during the sunset. I highly recommend the Meteora Central Hostel for its comfort and social atmosphere.
| | |
| --- | --- |
| Return bus ticket from Thessaloniki | 32.5 EUR |
| Motorbike rental (24 hours including fuel) | 27 EUR |
| Entry to a single monastery (you can visit 6) | 3 EUR |
I chose Halkidiki as the destination of my second trip as it makes a lot of sense due to its proximity to Thessaloniki. I decided to rent a car and go around the whole first leg of the peninsula. I traveled to Afytos by a public bus and arranged a car rental from there so that I don't have to drive on the highway to and from Thessaloniki. I chose Chalkidiki Cars as they are cheap and flexible. I requested the car just one day in advance and didn't have any issues with them.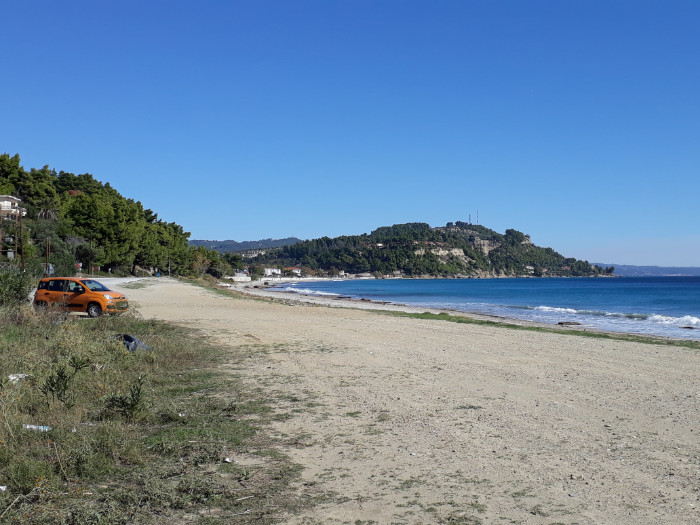 I can recommend going on a hiking trail from Polychrono to see a turtle lake (you might not see any turtles though) and a bird forest behind Sani Resort. Possidi cape is also interesting and it is a great spot if you are into windsurfing. If you have time, I think it is great to do more hikes in the middle of the peninsula, the nature is nice in autumn and you are far from the noisy roads. Beaches are pretty similar around the whole area, but the only ones that were not deserted in October were the ones in Sani Resort. Good alternative for a beach is to visit a local thermal spa. I went to see Myrthia Thermal Spa which has both thermal water and warm sea water pools and saunas. All together I spend 4 nights in the first leg of Halkidiki and it was enough time to explore the area.
| | |
| --- | --- |
| Car rental (24 hours, category A, new car, exluding fuel) | 22 EUR |
| Hotel room/apartment in Halkidiki (1 night) | 35+ EUR |
| Entry to Myrthia Spa | 20 EUR |
I considered visiting an island, but almost all flights to Greek islands are from Athens so it wasn't very convenient nor cheap.
Greece in October and November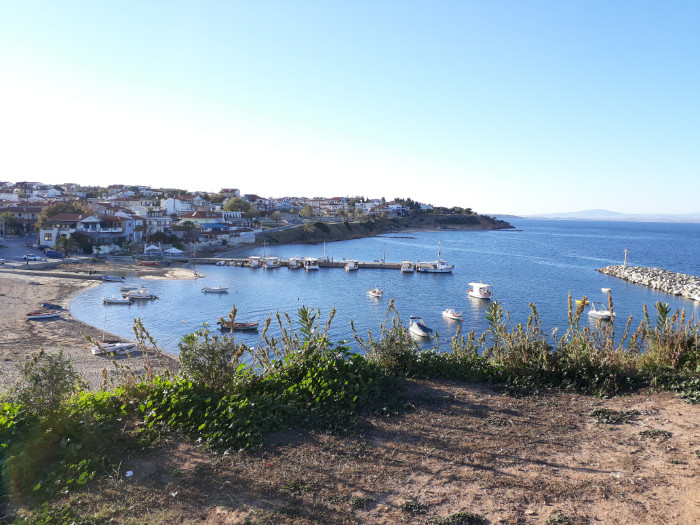 First, the weather. I was lucky and it was mostly sunny, around 20° Celsius without any rain for the entire duration of my stay. I was even able to dip myself in the sea, without feeling cold. There were some colder mornings or evenings because of the wind, and some cloudy days too, but nothing that would affect the stay in a city or the ability to hike in the nature.
Tourist locations around Halkidiki were deserted. Deserted beaches, closed taverns and businesses and a lot of accommodation simply was not available during this time. I was also looking for various boat trips and tours but by the middle of October cruises and similar trips are basically all gone. On the other hand, in all the places I visited there was always something open, even if it was just one, two taverns or a local grocery shop. So you will not starve, just the options will be limited. In the end it makes things simpler – no time spent on reading restaurant reviews :)
There are still places that enjoy tourists during this time and where you will not feel like the only toursist in town, e.g. Sani resort in Halkidiki, Meteora monasteries and of course cities like Thessaloniki, where life never stops.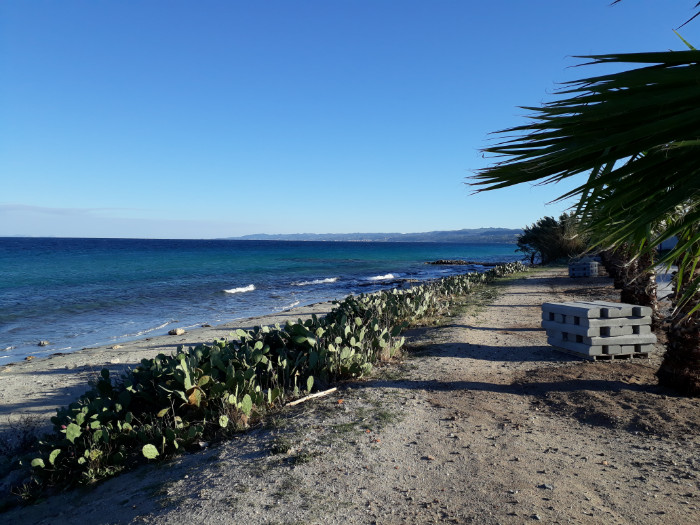 There is Ohi Day on 28th of October in Greece which is a national holiday. I spent the day in Thessaloniki where I saw a parade as a part of the celebration with all sorts of people in uniforms and various vehicles including the military. A lot of people were out in the streets either enjoying a parade or a coffee in one of the many bars and restaurants.
Beginning November, Thessaloniki enjoys its international film festival so that might be an option for movie geeks. You can see some Greek movies there, especially not the mainstream ones.
In the end, for activities like visiting Meteora monasteries, hiking or city life, October and November are even better than the summer months. For beach life and cruises it is better to go earlier.
Greek food
There is one thing that I really appreciate about Greek food and it is its variety. In the three weeks I was there I still haven't tasted everything I wanted. There is less international cuisine available in Thessaloniki and Halkidiki, but if you want to eat Greek food you are in luck! It is probably not an accident that Thessaloniki is called the Greek food capital!
First of all, there is street food. Gyros is the staple street food in Greece and you can get it anywhere. It is served mainly in a delicious pita with tzatziki and fries. Souvlaki is a popular alternative where the meat is grilled on a stick so it has more smoky flavor.
I am a fan of seafood and it is great that mussels, squid and octopus are quite common on the menu. What surprised me was that one of the typical dishes was mussels cooked in a mustard-based sauce with cheese. Fish is available from the small ones to some medium-sized ones either fried, grilled or just preserved in oil. There is also a lot of variety in meat. Beef, veal or lamb can be found in many places. If you want to order a good Moussaka, look for a beef and lamb mix.
Greeks eat a lot of chesse. They manage to sneak feta into almost any dish and almost every tavern prepares separate "cheese" dishes. There are also a lot of vegetarian food like stuffed peppers, fried zucchini, rice in wine leaves, fava beans, chickpea soup, mushrooms and salads.
The food is meant to be shared in Greece so a typical group or family would order a lot of plates and share them all. So going to a tavern on your own doesn't feel that great or normal as in say Czech republic.
| | |
| --- | --- |
| Salads | 5+ EUR |
| Gyros in pita | ~3 EUR |
| Fava beans | ~4 EUR |
| Beef sausage | ~8 EUR |
| Lamb chops | ~9 EUR |
| Octopus | ~10 EUR |
| Beer | 4+ EUR |
I struggled a bit with ordering food, because it was sometimes hard to guess the portion size of the meals. Starting with appetizers, appetizers are not real appetizers in Greece. They can arrive on the table before, during or after your "main" dish and they are sometimes as big as a main dish. Most of the time, Greeks only write the main ingredient (fish, sausage, …) of the dish and never mention if it comes with a side or not. From my observation, fish or meat typically had a side included in the price and the portions were big, seafood like octopus or squid typically didn't have sides. On top of that, taverns sometimes give you a shot or desert afterwards but it is never mentioned, so again you are in the dark. At least salad portions were consistently big. But don't take my word for it, I am still confused.
Almost all taverns will bring you water and bread that you are supposed to pay together with your meals. Some offer water for free. I didn't want the bread or water on many occasions and asked for it to be removed from the bill. If you ask, they won't charge you for it, but it can be annoying at first when you are used to a different dining culture.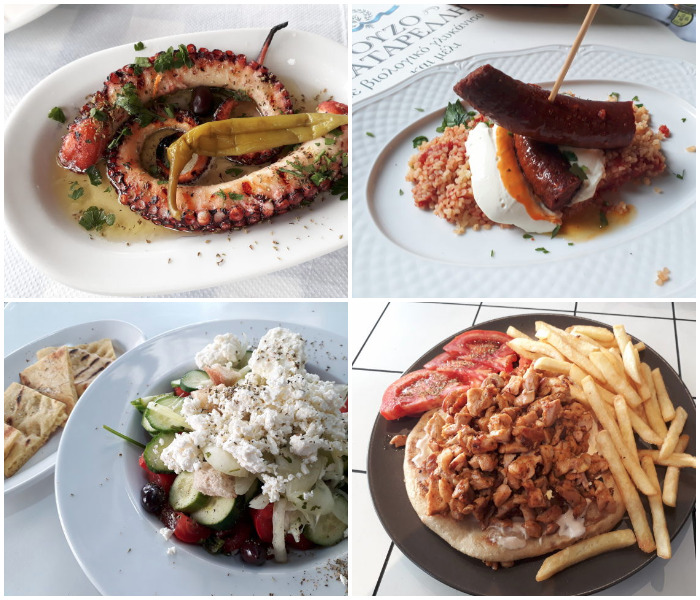 Working as a digital nomad
I was flying from Prague and traveled to Prague by a RegioJet train. In RegioJet trains, you get free internet and you can easily arrange to have a seat with a socket. It is pretty comfortable to work on this trains so I managed to work without any issues.
Prague Airport has also free wifi and there are sockets available too — they are available at the various columns, but they are not always near benches. But still, both before and after security check I was able to find a free place to sit with a socket. Internet worked well. If the airport gets crowded, you might need to sit on the ground if you want a socket. My problem with working in airports is my inability to concentrate on work. This is mainly due to a limited time for a session, let's say it is 1 hour. For working on a blog post, writing tweets, fixing small bugs or anything where deep work is not required it is fine. I was trying to work in the airport for the experience and I managed to do a bit of work done, but in the end I'd just prefer to read a book.
I didn't see any sockets at the airports in Athens or Thessaloniki, but if I remember well, internet was available at the airport in Athens.
In Thessaloniki I stayed in Stay Hybrid Hostel which I found to be a great place for work. There is a lot of laptop-friendly places to sit with a socket nearby and there is a solid internet connection. Moreover, this hostel has awesome location and is one of the cheapest places to stay in Thessaloniki. It is because of this reasons that I actually stayed much of my stay here and didn't look for AirBnb or a hotel room. I was also considering going to a coworking place (there are some in Thessaloniki), but again, the space was really great and I didn't feel the need to go and pay for coworking.
| | |
| --- | --- |
| Stay Hybrid Hostel (1 night) | 12-14 EUR |
As a part of the deal in EU, my mobile data plan worked in Greece, but I used it only for ad hoc internet search, not for work. Many times it was very slow even for internet browsing. There are some cafés with wi-fi in Thessaloniki, but it is mostly not advertised. Finding a place with a socket could be a real challenge. During my stay I only saw one place that had both internet and a socket, that was Koubi (Κουμπί) coffee & crafts at Peloponnisou 2.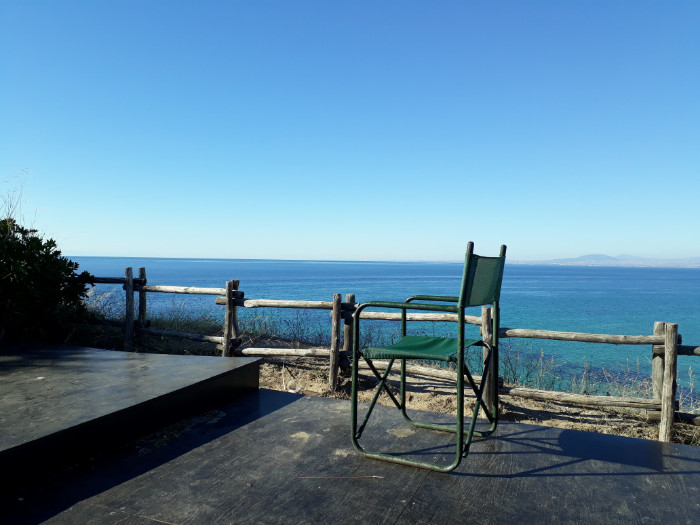 Social aspects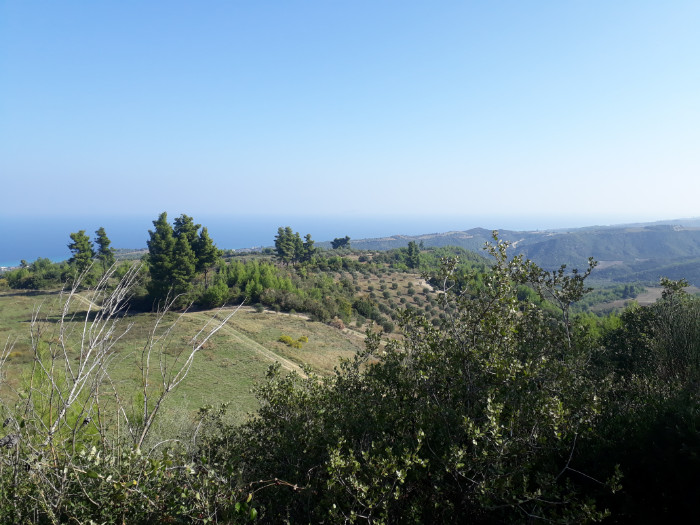 Most of my time I stayed in Stay Hybrid Hostel which wasn't very social at the beginning. There are some really good common areas including a rooftop terrace, but probably due to its size, diverse crowd and season there wasn't much going on, with the exception of large groups that had a lot of fun but were there mostly for themselves. I managed to meet people and go out with them, but not as many or often as I'd expect. The only time I had really a lot of fun in a hostel in Greece was during my stay in Meteora Central Hostel while visiting the Meteora monasteries. The hostel was small, with one cosy common area and basically everyone staying at the hostel was chatting and drinking there in the evening.
There are regular CouchSurfing meetings once per month in Thessaloniki which is probably the easest way to meet a bunch of people at once.
I also tried to look for meetups on Meetup.com. There are not many, but I found an interesting meetup called "Shut Up & Write!™". I thought that it'd be a good idea to combine some productive time with meeting people, so I went. It is situated in a nice artsy café and the ambience was great. We also went for a drink after so I managed to talk to locals and had fun.
Tinder doesn't work at all in Greece, so don't bother. Locals suggest to talk to people in person in bars :)
In general the Greek people enjoy going out for drinks and you can find venues open late in the night and even go and see a live concert around midnight on Sunday in Thessaloniki. However don't expect the same wild atmosphere as in Spain, Greeks are not that crazy party animals.
In the end, I have mixed feelings about Greece when it comes to social life. On one hand, Greeks are very kind when you get to know them and you can see that they can surely enjoy life by going out, but on the other hand it is hard to find activities, events or meetups online – especially in English.
And that's all from me. Feel free to write a comment if you have a question or want to add your two cents.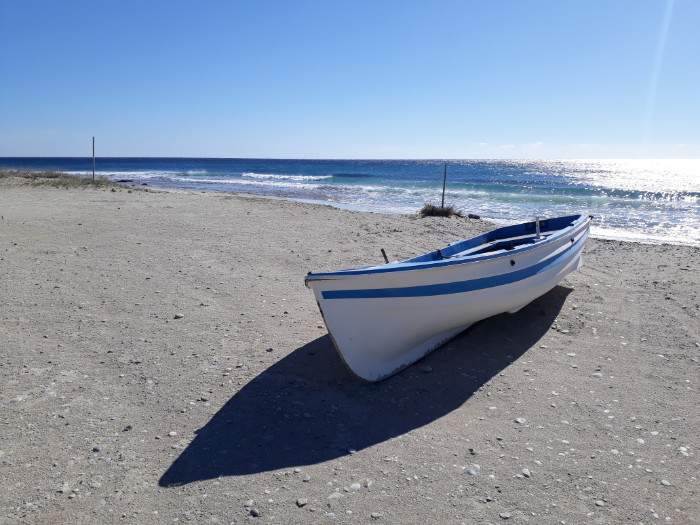 Last updated on 8.11.2018.